Day 9, Pisa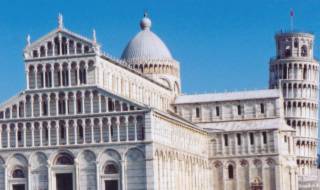 (This picture's a little lopsided. The church is not actually titled, only the tower. So if you rotate the church to flat-level in your mind, then the tower REALLY leans).
On train to Pisa. Walked around Florence a bit this morning. Had breakfast at hostel with Sabine, a German living in Naples to teach German as second language. Played cards with her last night, along with Timmy from Sweden, Pardee from Canada, Hosea from CA but in school at Florence (what can you do with an art degree?), Kolbe from WA who has a degree in techtronics (?), and Andrew from St. Louis. Seems like a lot of people I've met so far are here for reasons similar to mine: Why not? Some have quit their jobs and just up and left. Isn't leaving that way, for months on end, irresponsible? I understand that 2 weeks isn't very long, but...don't they need security and future plans - and money??? Don't they have people they miss? Who miss them?
I think I smell.
(Later)
On train back to Florence. Walked around the city of Pisa for a bit - quite pretty, esp. down by river Arno. Walking along and all of a sudden, the church courtyard comes into view - big, white and beautiful.
Climbed the leaning tower - 300 steps. Two concentric circles, inside which lies a winding staircase. All stone (marble?). All smooth and cold to the touch. Each step had a slight indentation in the middle, no doubt caused by the thousands of footsteps that have been there before me. The view from the tower - amazing. Am I using that word too much? I didn't climb to the 8th cornice, as the lean is quite noticeable from the 7th and you basically have to circle the 7th floor then climb up a ladder to get to the very top. My 'thing' (truly a fear?) definitely kicked in. How did they haul bells up there???